How are you able to connect to God in this hard time?
How are you able to connect to God in this hard time?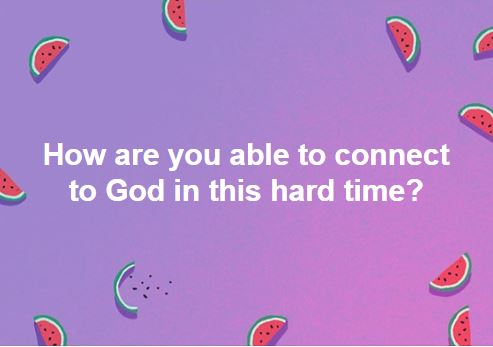 @FaithinGod
How are you able to connect to God in this hard time?
I connect with God by prayer still holding on his promises. I am actively participating my activity on our church via Meeting Applications. Sometimes we are doing bible studies we have Couples that taking the lead for us and creating topics. I made myself connected to God even though im not visiting our church physically.
@FaithinGod During hard times I used to communicate with God deeply. I cried and kneel down asking for help and forgiveness from all my sins. Sincerely, I talk to him quietly and repent to what I have done wrong. I console myself to him. Honestly, not only in the hard times. It is my usual doing to talk to Him even in ordinary days. When we communicate with God in prayers, Satan and demons tremble with fear. The enemies cannot withstand the power of prayer.Through prayer, we are able to interact with God: We talk to him; We get him to hear us, and we get to hear him also.
Through our communication with God, we are able to express our feelings to God. God also expresses his desires to our heart.
During this hard time, I always connect to God through prayer. Prayer is so powerful and I feel at ease when I pray. I tell him everything I'm feeling and I thank Him for everyday that I wake up despite this pandemic. God is always listening!
Jeremiah 29:12 "Then you will call upon me and come and pray to me, and I will hear you."
Since there are no going of schools and I am just at home, I have more time to just sit down, pray, and reflect. I pray late at night and cry, usually I wake up with a very puffy face but that's not much of a problem now that I am just at home all day. I do my daily devotion and try to share what I have learned through social media.