How has Jesus Christ blessed you in your life?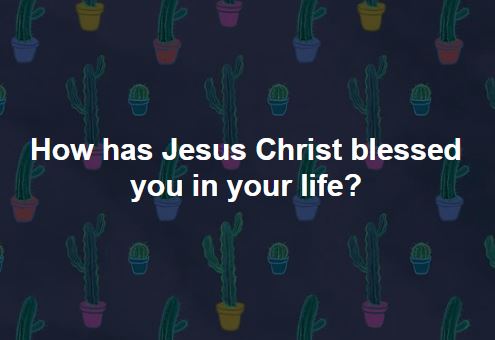 In other words, I believe that it's really important for us to share what God has done in our lives with others because honestly, someone else may be wrestling with the exact thing that you learned about that particular day.
@FaithinGod I love your topics.
Jesus Christ Bless my everyday. How? by waking me up everyday even though im a sinner still he bless me more than enough.
He is molding me for a better future removing all the things that i dont need.
He is Guiding me how to have a faith in Him mostly in this time of pandemic.
Im so bless that are not infected of any virus He keeping us safe. (But Prayers UP for everybody for this time of pandemic).
God bless everyone
How has Jesus Christ blessed you in your life???
I guess it would take me whole day to enumerate all of the things that God blessed me…but let me elaborate some of the most important blessings he bestowed to me…
■ It is a huge blessing for me to wake up again today feeling a little better than yesterday…
■ I am grateful that he blesses me with good health and a renewed life even if I wanted to die yesterday because of my uncontrollable thoughts and emotions…
■ I am blessed because I felt his presence yesterday while I am crying so hard asking for forgiveness for what had happened…and ask him to let me know if I am forgiven by waking up today feeling better…
■ I wake up today feeling loved by my parents even if they are away from home, and knowing that they are in good health as well…
Thank you Lord for everything as always!
It will take me forever to count all the blessings God has blessed me in my life. Sharing some of them below:
Forever thankful to wake up everyday with endless chances and opportunities
Grateful for having a roof to live under.
For family and friends who loves us unconditionally
For healthy yet flawed body
For food to cook and eat with loved ones
Being forgiven for our sins and mistakes
Being protected against diseases, danger and bad things
And to top it all, for being loved, renewed and strengthened by God.
This question reminds me of Elizabeth Barret Browning's poem: "How Do I Love Thee?" (Sonnet 43). I wanted to respond like how @Jean did but she did it so beautifully already

so let me just paste below Browning's classic, but this time dedicated to our Lord Jesus Christ:
How do I love thee? Let me count the ways.
I love thee to the depth and breadth and height
My soul can reach, when feeling out of sight
For the ends of being and ideal grace.
I love thee to the level of every day's
Most quiet need, by sun and candle-light.
I love thee freely, as men strive for right.
I love thee purely, as they turn from praise.
I love thee with the passion put to use
In my old griefs, and with my childhood's faith.
I love thee with a love I seemed to lose
With my lost saints. I love thee with the breath,
Smiles, tears, of all my life; and, if God choose,
I shall but love thee better after death.
Jesus Christ blessed me with life. Life might be too simple to pronounce, it is a very simple word, we hear it all the time. But it could be one of the most neglected blessing, especially now that we are too busy with life's hustle. I'm so blessed by it because it is God's special gift to me, a gift that caused Him His life. Whenever I am reminded by that sacrifice every blessing I receive becomes second.
I believe that everything in my life is a blessing. From waking up in the morning to sleeping in a comfortable bed at night. But my greatest blessing and something I will always remember is how He saved me from my dark ways. I have been in a very rough path before and it came to a point where I almost ended my life. But, the Lord God saved me! And He continues to save me everyday! I have not seen myself this happy and positive in life. My friends also noticed how positive I have been in dealing with situations. All of these are possible through the Lord God!
Yes sir @IamRichardJohn! People sometimes fail to see how blessed they are every waking day. God wakes us up every morning and gives us another chance to be better, to right our wrongs, to spend time with the people we love, and to enjoy life! Being able to enjoy life is a blessing!
Hello Ms. @kianna, I like what you said that everyday is another chance for us to be better, to right the wrongs in our lives. A lot of mistakes we commit in life is already permanent, it is already part of our experience and can no longer be altered. But what God is giving us is the chance to learn from it and be able to surrender it to Him. Not that just that but whenever we wake up in the morning, God is giving a chance to mend our brokenness through Him. This might be broken relationships or just a broken self. That's who are God is, gracious, merciful, understanding, and loving.
Jesus blessed me so much. all of us facing problems in this pandemic situation is so hard but with God there is no way we cant handle it because God is always there for us to rescue us if we experience trouble in times of need. I thank God because He answer all my prayers and never left me behind in this pandemic crisis it is true if you give your life to God and allow Him to be the captain of your life there is nothing to be worry. Thank you God.
@FaithinGod i am blessed with
Supportive family and always there to comfort me and pray for me.
Husband who is also God fearring and ready to guide me and be with me also pray with me.
Friends that keep me company shoulder to cry on. And friends that i could share whats my mind.
When I thought my life was moving backwards, God moved me forward in INCREASE. Now that I am back in the area, I am enrolled in school, I have a job that pays me more than I've been making in MNL. All while continuously making deposits into the kingdom. With this global pandemic, my department went into a furlough. When I should have been struggling, I have been overly blessed financially by avenues of unexpected income. God has generated a new job position for me in my department. I can certainly say, I have not lacked anything in the midst of this global storm. It blows my mind every-time I think about it. Thank you Jesus!!!
Yes, sir @IamRichardJohn. Every waking day is a blessing and a new chance for us in life!
Amen to that!