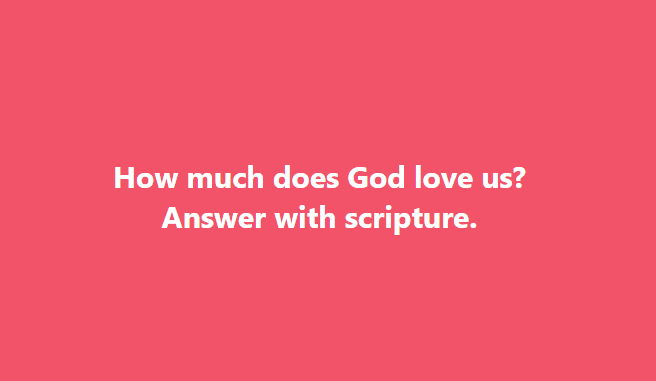 How much does God love us?
Answer with scripture.
Know therefore that the LORD your God is God, the faithful God who keeps covenant and steadfast love with those who love him and keep his commandments, to a thousand generations.~ Deuteronomy 7:9
Love consists in this: not that we loved God, but that he loved us and sent his Son to be the atoning sacrifice for our sins.1 John 4:10 CSB
Romans 8:39[39]nor height, nor depth, nor any other created thing, will be able to separate us from the love of God, which is in Christ Jesus our Lord.
23rd Psalms, my favorite.
Zephaniah 3:17"The LORD thy God in the midst of thee is mighty; he will save, he will rejoice over thee with joy; he will rest in his love, he will joy over thee with singing."
541 times, love is mentioned. I'm thinking love is very important to the Lord. God is Love.