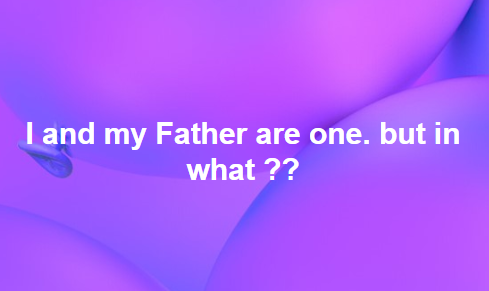 Dipen Homagai When Jesus when he was preaching he said it not me who's talking but my Father basically saying in Spirit they are one but individually they are two perspective May consider Jesus to be God but just cause he said I and my Father are one don't mean he's God!! If you truly read Bible u guys wouldn't be so lost!
Matt Walters Jesus said I do not do anything unless I see the Father do it or I do not say anything unless I hear the Father say it. Something like that
Masimini Pilson Remember Jesus came to Earth to bring God closer to the people, as an Ambassador of Heaven.
What this means is ambassadorial office never speaks or acts in contradiction to the country in stands for, because it is in constant contact with and advisory by the country
Hello, dear @Jimmy_Ka
That's the holy trinity, and the mistery of our religion. How it can be three, the father the son and the holy spirit, if there's only one? I have always thought about it and asked some priests I know, they always say that that's where our faith is necessary, even while it may seem illogical, God is not submitted by the laws that we seem to believe are true. He's something else, he's our creator, so it should be obvious. On other point of view, Jesus said "I and my Father are one", because God made himself a human, just to shows us how we should live our lives, how is the correct and true way to heavens where he's waiting for us.
At least that's what I believe.
Kind regards, Luis Guerrero
Indeed, Jesus Christ said that He and the Father are one.
But in what sense.
They are NOT one Entity.
Which means they are not the same being. The Father is not the Son and the Son is not the Father.
Mat 3:16 And when Jesus was baptized, immediately he went up from the water, and behold, the heavens were opened to him, and he saw the Spirit of God descending like a dove and coming to rest on him;
Mat 3:17 and behold, a voice from heaven said, "This is my beloved Son, with whom I am well pleased."
Mar_9:7 And there was a cloud that overshadowed them: and a voice came out of the cloud, saying, This is my beloved Son: hear him.
In these two occassions, Christ's baptism and His transfiguration, we've seen that Christ and the Father appeared separately.
Jesus and the Father are one in Essense or Nature.
Colossians_2:9 For in him dwelleth all the fulness of the Godhead bodily.
We can see in this verse that in Jesus dwells the nature of the Godhead.
Christ also claims this and by doing so, the Jews tried to stone Him because He claimed that He is God.
Joh 8:58 Jesus said to them, "Truly, truly, I say to you, before Abraham was, I am."
Joh 8:59 So they picked up stones to throw at him, but Jesus hid himself and went out of the temple.
John 10:30 I and the Father are one."
John 10:31 The Jews picked up stones again to stone him.
In these two separate occassions we've seen that the Jews tried to stone Him because of His claims. This is not surprising because the Jews understand what He meant.
Try to go to a mosque and claim that you are Allah and you might get the same reaction.
The Father and the Son has One purpose
Joh_17:11 And I am no longer in the world, but they are in the world, and I am coming to you. Holy Father, keep them in your name, which you have given me, that they may be one, even as we are one.
In this verse, we've seen that Christ is praying for unity among his followers that they'd be one just as God the Father and Jesus are one.