I will not leave you as orphans;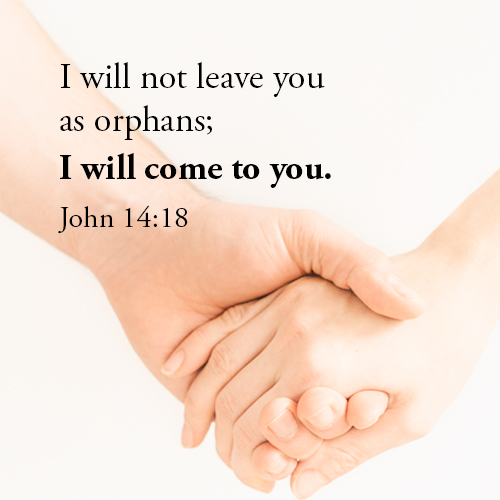 Hello, dear @Jenny
Welcome to the comunnity! I hope you love it here like everyone else.
I love the image you shared, with the problems we face on our lives we sometimes feel alone… But nothing more wrong, our Father is alwayas looking after us and making it so we will accomplish good things. He will alwayas be by our side, we just need faith and praying to recognize him.
Kind regards, Luis Guerrero.
Hello there @Jenny…welcome to Faith Pixel community… we are glad you are here and shared some posts…Hope you'll gonna like it here as much we do…Anyway, sometimes in life we encounter unexpected things and felt like we cannot find any solutions for it…but we have to remember that we really can't make it on our own in this world but we don't have to, because Jesus did not abandon us and he will never be…

Hello Jenny, welcome. Let us learn and grow together in this community.
Thanks for sharing John 14:18. Anything about orphans and about God loving orphans and children resonate well with me. My wife and I don't have biological children and adopting 3 siblings is the best decision we have ever made. At first, many people questioned our decision to adopt 3 children at one time, and always I tell them about God adopting us as His very own children.
Salute to you @eestioko and to your wife for your big heart of adopting 3 kids and love them as your own…actually not all couples are into adopting, that is why I salute you both…For me, I really wanted to adopt because I am afraid to experience the pain of giving birth again, but my husband wouldn't agree…it was a big argument for him if I push the adopting scene, so we end up quarelling about it. So, I stopped pushing the plan, but still hoping he will agree in the long run…

Thank you for this @Jenny! Such wonderful assurance that our Father is always here for us. Our Lord God is such a good father to us, at times I long for a father figure in my life, I go to the Lord and I feel 10x better.