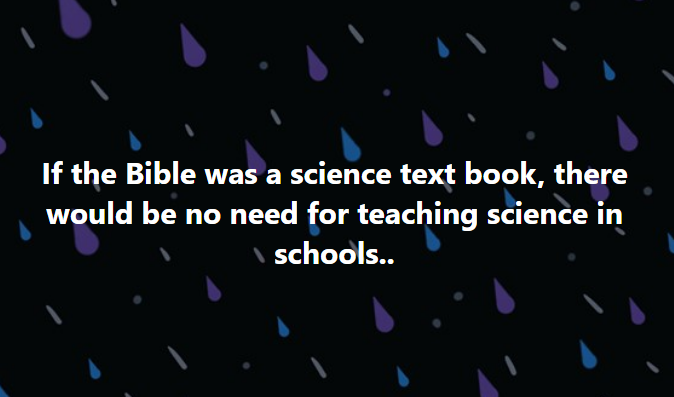 If the Bible was a science text book, there would be no need for teaching science in schools…
Christianity is not anti-science. I personally love science. I work in healthcare and love to see the technology and what we are able to do these days. I thank God for giving us the ability to achieve these things.
If it was a book of fairytales then how come is has accurate history
Koshie Rachen true — that said, the two don't have to oppose. Genuinely objective science serves a different purpose than the Bible does and ultimately doesn't contradict it. If science could:- save you or - teach you right from wrong or - explain the meaning of life or- provide ultimate or final answersthen there would be no need for the Bible.But science cannot do any of those things. So we need the Bible.And to be fair to the Bible, science has been — and is still — wrong far more often than it is and has been right.That is why science has changed and often has to change, and will change so much in years to come — and the Bible hasn't changed and hasn't had to change. And won't have to.
But it's not. It's a book of fairy tales
Science is the observation of God's creation
It is a true history book that says the earth is flat
It is a powerful statement wrote over 2000 years ago. Some over 3000. The accuracy is amazing. Of course you will point out that they were inaccurate on some or more accounts. I understand. Read it. I bet you didn't.