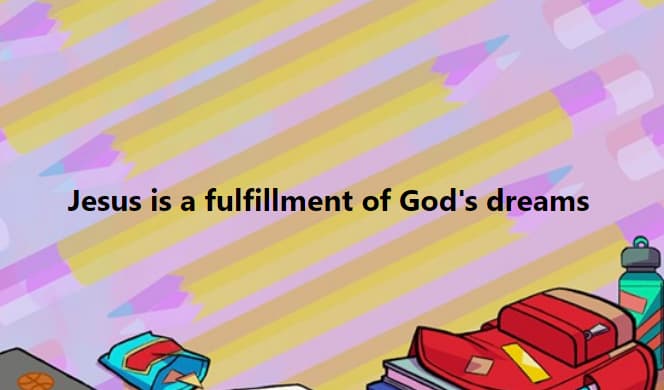 Jesus is a fulfillment of God's dreams
Where do you come up with this garbage?
no dream mention here… John 1:1-3In the beginning was the Word, and the Word was with God, and the Word was God. He was in the beginning with God. All things were made through Him, and without Him nothing was made that was made. John 1:14And the Word became flesh and dwelt among us, and we beheld His glory, the glory as of the only begotten of the Father, full of grace and truth. John 14:10Do you not believe that I am in the Father, and the Father in Me? The words that I speak to you I do not speak on My own authority; but the Father who dwells in Me does the works.
Jesus (Yeshua) is the fulfillment of God's law in that he kept it perfectly and showed us how to walk in it & gave us grace if & when we stumble & seek forgiveness.
I am very happy that majority of people here are spiritual and with good heart, which can see the light and love of God, while the carnal ones who were appalled by this post, are always in a weak minority, unable to understand God's heart, being earthly, blind to spiritual matters, trying to show themselves as knowers of the creed yet being completely ignorant of it, due to the absence of spirit to see. Jesus said well about such, comparing the to painted coffins, pretty outside and full of rotten bones inside.
JESUS is the living flesh of GOD THE FATHER,Our LORD and SAVIOR
God never dreamed about allowing his son to die for sin.