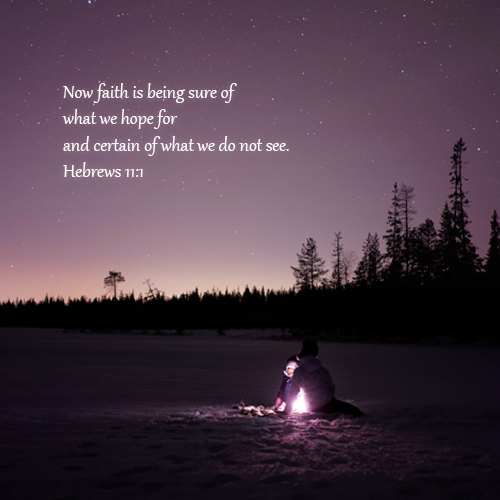 Hi @Jenny This is what the world needs right now. Faith. Let go in faith rather than holding on in fear. When we trust, we surrender and let go in faith. That way, we let our God take control of everything. Everything that happens, happens at the right time with the right reasons. Whether it's good or bad, have faith. God knows what He is doing. Trust Him with all our hearts cause He is the hope, the light and our savior.
And without faith it is impossible to please God, because anyone who comes to him must believe that he exists and that he rewards those who earnestly seek him. - Hebrews 11:6
Faith as defined is simply having the confidence that future things God has revealed in His written word, will unquestionably happen. And only God has in control for it. All we have to do is strengthen our faith unto him and trust in his timing…

There is so much theology to this verse. It calls my attention to the King James Version. I use different versions by the way, but specifically for Heb 11:1 I love how KJV worded it: Faith is the substance of things hoped for, the evidence of things not seen.
A substance to be a substance must hold water, and an evidence to be admissible in court should be visible, quantifiable and measurable. So, the best proof of the things we cannot see (God, heaven, angels, etc) is our faith itself!
God is in control.
In times of crisis, the world needs steady people who are strengthened by God's grace and selfless by God's power. Worry accomplishes nothing except weakness of heart and head. It's been said that 90 percent of the things we worry or become panicked about never happen, and the other 10 percent are outside our control.
While it is important to stay alert about the virus, worrying won't change our circumstances or lower our chance of infection at all. Let's respond with prayer and faith in God. Love others well and trust in Him. Press on, pray for the sick and walk in God's strength. — Elevated Faith