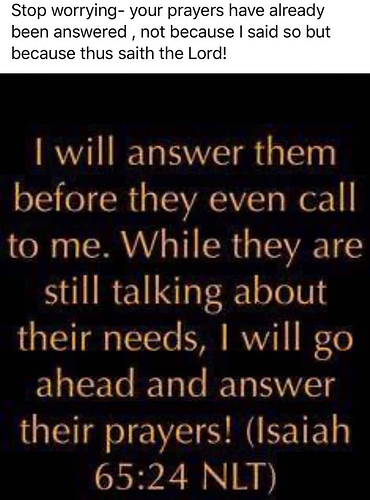 Quote from: Minister Lucy Morilla
Hello, dear @Rebecca
Great reflection by the Minister Morilla, I have always thought that the Lord is something special… He already knows when we go to talk with him, but he wants us to tell him about it, he wants to listen to us and tell us that everything will be alright. As he has already answered those prayers, we just haven't noticed yet! We always have to trust him!
Kind regards, Luis Guerrero.
Thank you @Rebecca. I have learned to stop worrying because in the first place it is not good and God is in control. When we stop worrying and we let things happens in accordance with God we will receive what we prayed for. We will get an answer to the prayers, so stop worrying too much.
Hi @Rebecca. Thank you for sharing this.
We shall lift up all doubts and worries to the Lord because everything we need is planned by Him. We shall always remember that the Lord has bigger and better plans for us than what we have planned for ourselves. Let us continue striving everyday to become the best version of ourselves and at the same time spreading the Lord's goodness.
thank you @Rebecca for the word of God that you shared to us as words of encouragement; when i read this it enlightened my day, i need this one. I really thank God that he is in control and he knows our future. thank you that He knows me well and before i called he answered and he came to my rescue.