And now these three remain: faith, hope and love. But the greatest of these is love.
1 Corinthians 13:13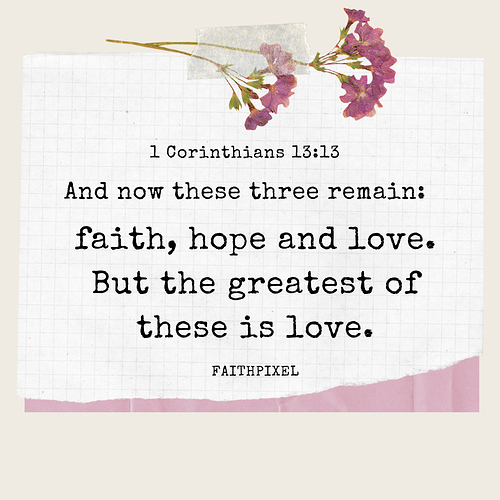 Hello, dear @Jenny
Great verse… If you think about it, those three are the keys of a happy life, people live looking for money or physical desires, when in fact all they need is to feed the soul. And only by having God you can do that. Faith, hope and the greatest of all Love, because God is Love! Only with God, with love we'll find the truth and the real happiness in life.
Kind regards, Luis Guerrero.
The verses in 1 Corinthians 13 sets as a perfect definition of love. Every time I get discouraged or lost in thoughts I go back to these verses for a spirit lift. I recite it until my heart is in peace and ready to love again. I make this as an inspiration on how to truly love and it works.
@Jenny Love is always the key for everything, Love will always be the answer and I do believe on that. God's love is always best definition of Love (Agape love) He loves us unconditionally no ifs buts always ready to embrace us he was not looking in your past. He is still the same yesterday today and tomorrow
As Paul says, "If I have a faith that can move mountains, but do not have love, I am nothing" (1 Corinthians 13:2).
It is true that faith, hope and love are the keys of living a happy meaningful life. But love means God. To love God and love one another.
Love is the greatest gift of all…
Love is greater than even hope and faith. Without love, there can be no true faith; a loveless faith is nothing but an empty religious exercise. Without love, there can be no genuine hope; a loveless hope is an oxymoron, because we can't truly hope for something that we do not love. Faith and hope are dead, sterile things if not accompanied by love.
Hi there, @Jenny!
I really like this verse because it is very powerful, in my opinion. Faith, hope, and love are the three greatest virtues we must uphold every single day of our lives. No matter what we are going through, good or bad, we must always remember to treat others with love. Even if we are going through tough times, we must have hope for a better tomorrow. If we lose motivation in life, pray to God and strengthen your faith. We are loved by God and we should spread His love.