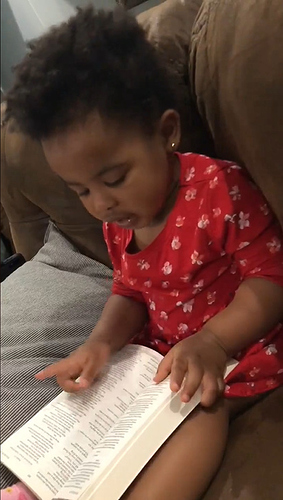 This little baby misses Church and she decides to lead a Bible Study with her family… Praises God somebody… Amen
Wow its so good to see a child loves the word of God. Thank you Lord for this baby and the parents of the baby that teach the baby to love your words it so amazing.
Hi there @Ruth…it really amazes me everytime I see babies and kids who are so good in memory verses. It reminds me of the years that my parents taught me, that is why I am teaching my 2 year old daughter memory verses too. My snappy salute to the parents of this child…God bless you little one.
"And these words that I command you today shall be on your heart. You shall teach them diligently to your children, and shall talk of them when you sit in your house, and when you walk by the way, and when you lie down, and when you rise." Deuteronomy 6:6-7
Hello @Ruth its a cute moment. Nowadays kids or babies are learning how to use gadgets, watching youtube short clip movies and etc. but this baby girl is leading her family bringing closes to our God. This is one of the perfect moment right now. In my own opinion She will grow a good girl and God Fearing person.
Amazing!
This is so cute and inspiring! It is very good for the child that she or he, at a young age, is being taught about the word of the Lord. Plus, listening to the thoughts and opinions of little children can be fun and interesting sometimes, their thoughts are honest and pure.
Hello, dear @Ruth
This is so lovely!! I really like when you can see the faith installed on childrens since they are on young age, it reminds me my own childhood. This is always a good sign, when they enjoy the readings and things about the faith they are on a good and loving family, that plus is leading them in the good way of God. I wish my childrens to be like this when the time comes haha.
Kind regards, Luis Guerrero
Praise God for this little angel. Just called my youngest son to watch the video, he just smiled because sometimes I am having trouble to let him pray for a meal. I am really inspired by the parents of this child for what they are teaching at home. I seldom see modern family open the bible at home especially the hard copy. Most of the bible nowadays are just apps in mobile phones but to have their baby read from the book itself is amazing. May this video serve as an inspiration for Christian families out there, you have inspired one today… me and my family. God bless little angel, praying that you will continue to enjoy being in the presence of our Almighty Father in heaven.
very cute, very nice… beautiful kid … i just dont have may comments in this photo… im happy… really GOD loves children's. their innocence look… SHES CUTE… just this verse -"train up a child in the way he should go even wen he is old he will not depart from it.



I love seeing kids opening their bible instead of gadgets. It's nice to know that there are some kids who started young in the journey towards God. This inspires me. Thank you for sharing this! I pray that this will also inspire other families to teach their children how to open the bible and lead the prayer.
Hi @Ruth She is very adorable! Look at her, at such age, she knows Jesus Lord. A beautiful reminder that even children can be a prayer warrior.
Teaching a child to be a prayer warrior is the key to raising a generation that can truly change, not only their own lives, but also the lives of those in the world around them. I hope this little baby learns more as she grow up about God. Because God wanted the future generations to have the greatest inheritance. The God's wisdom.
God bless you baby. I hope you'll continue what you are doing right now until in the future, please continue serving God and spread his world throughout the nation. I am proud of the family who raised these child.