To everything there is a season, A time for every purpose under heaven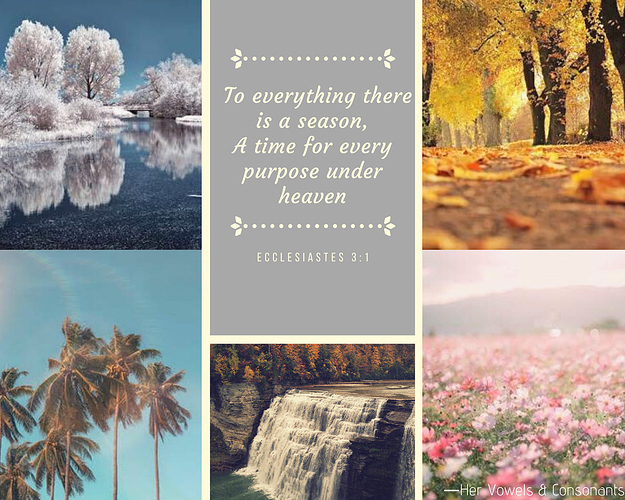 Reflection from Her vowels and consonants
To everything there is a season, A time for every purpose under heaven.
Ecclesiastes 3:1
Hello, dear @Eric
Great words! There's a season and a time for everything, this has already been planned by God… We must trust him and all of what we want will be given. God is that good. But that's the tricky part, we have to trust, it may not happen at the time we want but it will happen. Because as the snow only comes during winter, so will the blessing of God.
Kind regards, Luis Guerrero.
God has always a plan for everyone. For every situations and stages of life. Remember today that whatever God's will is for our lives, He will provide the way for us to accomplish it. For every seasons, there will always be struggles along the way, but whatever life throws us, always remember that each seasons will always teach us something that will always be in our favor, and bring us to the person we should become and to the things that are meant for us. Believe that we are just being prepared thru every seasons and always keep the faith that one day, everything will fall into place.
Yes, Amen. @Eric. Thank you for reminding me.
Ecclesiastes 3:1 There is a time for everything,
and a season for every activity under the heavens:
2 a time to be born and a time to die,
a time to plant and a time to uproot,
3 a time to kill and a time to heal,
a time to tear down and a time to build,
4 a time to weep and a time to laugh,
a time to mourn and a time to dance,
5 a time to scatter stones and a time to gather them,
a time to embrace and a time to refrain from embracing,
6 a time to search and a time to give up,
a time to keep and a time to throw away,
7 a time to tear and a time to mend,
a time to be silent and a time to speak,
8 a time to love and a time to hate,
a time for war and a time for peace.
Everything has time. I trust his time and He will make us bear beautiful fruits at His season!