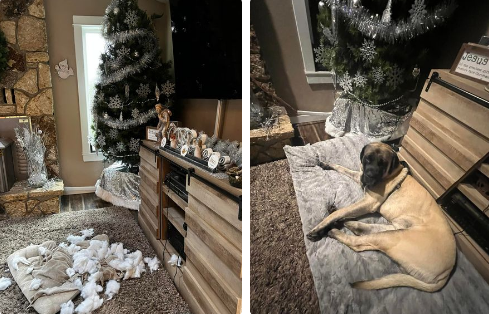 "You made your bed, now you lay in it!"
That's what people say when they don't want to help someone out that got themselves into a predicament.
It means, you got yourself into this, and now you can get yourself out of it because I'm not helping you.
It's an arrogant, worldly way of looking at someone's circumstances.
It's definitely not the HOLY SPIRIT telling us to talk like that, or even think like that for that fact.
There are lots of different ways that we can help someone out that doesn't include giving them money.
"A new commandment I give unto you, That ye love one another; as I have loved you, that ye also love one another." (John‬ ‭13‬:‭34‬ ‭KJV)
We must remember how we were when the LORD helped us.
We must think of the bed that we made for ourselves.
My mom got a new dog, Carmelo, and she gave him a bed that she had from the last dog that she had.
It was definitely too small for Carmelo.
But it didn't matter because he tore it up that night anyways.
The stuffing was everywhere.
My mom was thinking it was maybe because it smelled like that other dog.
Anyways, she gave him his early Christmas present tonight.
It's a new bed.
It's like six feet long.
He loves it so far.
We will see what it looks like in the morning after everybody is gone.
But that's the way that JESUS is with us.
HE never says, "Look what you did, now you deal with it.
No, HE wants to help.
HE wants to give us a new bed.
HE loves us so much!
"Love is patient and kind. Love is not jealous or boastful or proud or rude. It does not demand its own way. It is not irritable, and it keeps no record of being wronged. It does not rejoice about injustice but rejoices whenever the truth wins out. Love never gives up, never loses faith, is always hopeful, and endures through every circumstance." (1 Corinthians‬ ‭13‬:‭4‬-‭7‬ ‭NLT‬‬)
HE always gives us another chance to get right back into the wonderful plans that HE has for us.
We can step right back into HIS will with our repentance.
"For I know the plans I have for you," says the Lord. "They are plans for good and not for disaster, to give you a future and a hope." (Jeremiah‬ ‭29‬:‭11‬ ‭NLT‬‬)
HE always gives us a second chance.
HE is the GOD of second chances.
HE always gives us a new bed after we chew our's up.
Does that mean that we should keep on doing as we please?
Does that mean that we should keep chewing up our beds since we get a new one every time that we do?
Doesn't that just show how strong GOD'S love is for us when HE continues to give us bed after bed?
No!
We should be so thankful to JESUS for the new bed, and not chew it up anymore.
We should show HIM how thankful we are for HIS grace by living according to HIS word, and by living a life that's pleasing to HIM.
"Well then, should we keep on sinning so that God can show us more and more of his wonderful grace? Of course not! Since we have died to sin, how can we continue to live in it? (Romans‬ ‭6‬:‭1‬-‭2‬ ‭NLT‬‬)
Thank you LORD for YOUR grace!
"Well then, since God's grace has set us free from the law, does that mean we can go on sinning? Of course not! Don't you realize that you become the slave of whatever you choose to obey? You can be a slave to sin, which leads to death, or you can choose to obey God, which leads to righteous living. Thank God! Once you were slaves of sin, but now you wholeheartedly obey this teaching we have given you. Now you are free from your slavery to sin, and you have become slaves to righteous living. Because of the weakness of your human nature, I am using the illustration of slavery to help you understand all this. Previously, you let yourselves be slaves to impurity and lawlessness, which led ever deeper into sin. Now you must give yourselves to be slaves to righteous living so that you will become holy. When you were slaves to sin, you were free from the obligation to do right. And what was the result? You are now ashamed of the things you used to do, things that end in eternal doom. But now you are free from the power of sin and have become slaves of God. Now you do those things that lead to holiness and result in eternal life. For the wages of sin is death, but the free gift of God is eternal life through Christ Jesus our Lord." (Romans‬ ‭6‬:‭15‬-‭23‬ ‭NLT‬‬)
We choose obedience.
We don't take advantage of YOUR grace.
We love you GOD!