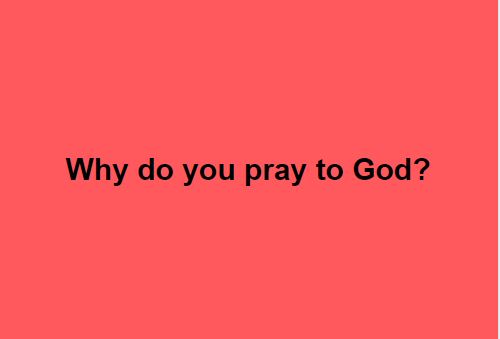 Thanks for this lovely question Jayke…I pray because it is the only way to deepen my personal relationship with God…I find intimacy through communicating with Him in prayer, because he is the only person who is not tired of listening in my dramas in life, and the only outlet I have where I can vent all my feelings…
Hi Jayke, I want you to know that it is really good to pray. We pray because it is our way to communicate with God. Knowing that God is our saviour and loving father who's crucified and bear our sins in order to save us. I pray because I seek for His guidance with my decisions. I pray to strengthen my faith and to be humble like him. We can show to God our pure heart when we pray.

I am very emotional when it comes to fathers. My foster dad died when I was 6 years old. I cry every time I think about him but there was a time when God tapped my shoulder and reminded me that my earthly father may have died, but I still have Him. He will never leave me. I pray because as my Father, I want to update Him about my life and to ask for His guidance in everything I do.
@FaithinGod I pray to our God .
Because i need his mercy and forgiveness. Also i give thanks to Him for the things He made throughout my life. He made me who i am now.
Sometimes i pray for my petitions also specially for my family and for the person who i did wrong in the past.
I pray to Him because I know I cannot handle life without Him. I am desperate for His love and help every single second of my life. I pray because I know He listens. I pray for other people, too. Most especially for those people who have not yet made a strong bond with the Lord. I know how hard life can be if you do not ask help from God, I don't want them to go walk that path.
Hello, dear @FaithinGod and Jayke
I pray, to feel God, to talk to him, to tell him about my day, life and feelings, to adore him and to feel him by my side. It's basically to refuel even more my faith on him, and getting closer with him every day more!
Praying is one of the better things you can do when doing it the right way. It's not an space so you can start asking things to God, it's more like a conversation. A intimate time between you and our Father. That's why it's so gratifying!
Kind regards, Luis Guerrero.